See on Scoop.it – Breathe Well, Eat, Well, Feel Well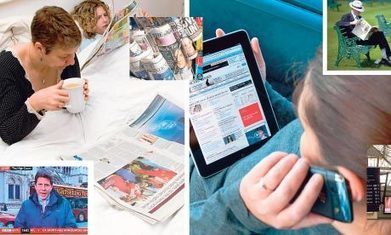 News is bad for you. It leads to fear and aggression. It hinders your creativity and makes you sick. We should stop consuming it, says Rolf Dobelli, who's abstained for years
Belinda MJ.B's insight:
Many of my clients comes to prepare and find peace of mind while in transition in a multicultural environement either to overcome conflicts, or to learn how to make meaningful decision for them, their family and their organizations.
During the process we evaluate how likely they react and respond to life events out of their comfort zone in order to assist them finding strengths and develop new communication and leadership skills. We often find them having a high level of catabolic energy which is exhibited by passivity or hostility.
And guess what, most of their stress and distress are cultivated and or aggravated by the "news". Those short irrelevant pieces of information which do not bring any good news, nor real news at all. The pieces of information which go on and on on CPP and FAX NEWS from one and unique perspective: sensational FEAR and who is to BLAME.
From the article,
"The media feeds us small bites of trivial matter, tidbits that don't really concern our lives and don't require thinking. That's why we experience almost no saturation. Unlike reading books and long magazine articles (which require thinking), we can swallow limitless quantities of news flashes, which are bright-coloured candies for the mind.[…]
News is toxic to your body. It constantly triggers the limbic system. Panicky stories spur the release of cascades of glucocorticoid (cortisol). This deregulates your immune system and inhibits the release of growth hormones. In other words, your body finds itself in a state of chronic stress. High glucocorticoid levels cause impaired digestion, lack of growth (cell, hair, bone), nervousness and susceptibility to infections. The other potential side-effects include fear, aggression, tunnel-vision and desensitisation.[…]
Society needs journalism – but in a different way. Investigative journalism is always relevant. We need reporting that polices our institutions and uncovers truth. But important findings don't have to arrive in the form of news. Long journal articles and in-depth books are good, too.[…]"
The author has now gone without news for four years, so he can see, feels and reports the effects of this freedom first-hand: less disruption, less anxiety, deeper thinking, more time, more insights. It's not easy, but it's worth it.
For more information about how to evaluate your level of catabolic energy and your stress reaction visit http://www.equanimityexecutive.com/energy-leadershiptm-index-assessment
See on www.guardian.co.uk